Komodo National Park is most famous for its Komodo Dragons residents. There are over 3000 Komodo dragons including Rinca and Komodo Island. Besides the Komodo Dragons, the park is also famous as a world-class dive site. There are over 20 dive sites found in the National Park which have good visibility to visit. On this page, we are selecting 15 world-class dive sites in Komodo for your great dive recommendation.
There are thousands of fish species, sponges, and hundreds of beautiful coral gardens. You will also find many types of reef sharks and schools of Manta Rays. For better dive planning, you need to get more information about Komodo island dive trips. Therefore, this page is probably one of your basic information for Komodo dive tours.
Not all dive sites can be visited due to the strong currents around the park. The best way is to make sure you book your dive trips with the best dive operators. You can also find a great online agency to get your great idea of diving in Komodo. They will give you recommendations for the sites to visit in Komodo National Park.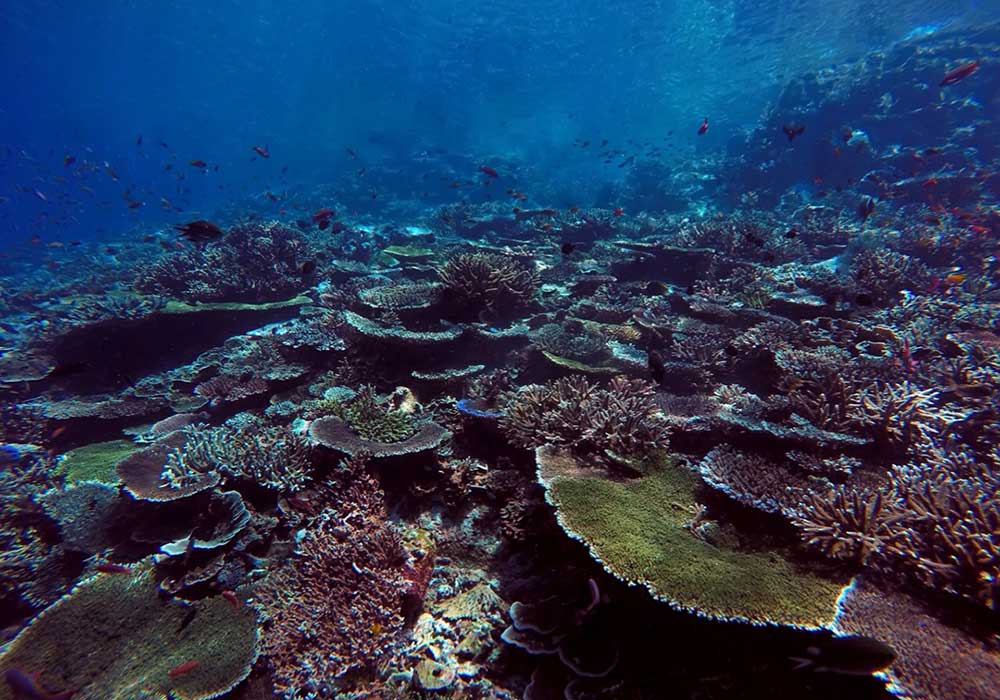 Below are the 15 World-Class Dive Sites in Komodo:
Tatawa Besar is one of the magic drift dive in Komodo. You can see the reef between 8 to 20 meters. What you will see here are reef sharks, hawksbill turtles, crocodile fish, octopus, giant trevally, and angle fish. There are also many more marine life on this dive site.
Tatawa Kecil is located at the near Tatawa Besar. What you can expect to see here are schools of snapers, sharks, groupers, and mantas. Enjoy also beautiful coral here.
Batu Bolong is a popular dive site on Komodo. Here you will see white tip reef sharks, giant trevally, enormous sweetlips, and napoleon wrasse.
Manta Point/Karang Makasar is fomous for Manta rays. There yoy can find over 100 mantas here, you can also find large fish, and beautiful caral gardens.
Siaba Besar offer a stunning underwater marine life. You will see many green turtles, sting rays, starry pufferfish, frog fish, and so many more.
One Tree is located in central of Komodo National Park. Here you wiil see white tip reefs sharks, fusiliers, napoleon wrasse, and many more. You will also find slope and fantastic coral gardens.
Batu Sabun is located close to Batu Bolong. This site offers many big fish, sharks, and many more. Moreover, this dive site is only recomended for professional divers.
Castle Rock is also one of the best dive sites in Komodo. There you can find big group of grey reef sharks, napoleon wrasse, baracuda, jack, mackerels.
Sabolon Island is a close dive site to Labuan Bajo. On this dive site you will see schools of surgeon fish, corals life, scorpion fish, orangutan crabs, and large see fans.
Sebayur Kecil is located near Labuan Bajo. You can see many giant trevally, white tip reef sharks, and snapers. You will also find a beautiful corals on this site.
The Cauldron is located in north of Komodo island. There you can see lazy white tip sharks, turtles, red snapers, and many more.
Yellow Wall is one of the recomended site to dive. You can see lobsters, spanish dancers, bright red sea aples, and much more.
Manta Allay is also one of the rekomended dive site in Komodo National Park. Ther you can find many manta allay, beautiful corals, and giant trevally.
Padar Wreck is located in Padar island. There you can see shrimp resides, barracuda, and batfish. You can also enjoy beautiful corals on this spot.
Three Sisters is also located in Padar Island. There you will possibility to see plenty of giant frog fish, beautiful rocks, and beautiful corals.
What is the best dive package to book?
If you plan to do dive in Komodo National Park, all you need to do is find out the best dive sites to visit. After that, you can choose to book your dive trip arrangements. Most of the dive trips to Komodo depart daily from Labuan Bajo. However, you can do it with a boat trip from Bali as well.
Below are the recommended dive trips to Komodo National Park:
Full day Komodo dive trips from Labuan bajo. This dive trip will able to do two times dives in Komodo. You will use speedboat, however you can also choose to go on a Phinisi boat. It is depend on your style.
Overnight dive trips. This type of Komodo island dive trip will use a Phinisi Liveboard. However, you can choose to rent a high speed yacth to do this. You will also able to choose to go on a 3 days 2 nights or 4 days and 3 nights. All are adependeng on your style.
For bookings and more details of dive trip packages, you can visit page Komodo Island dive trips from Labuan Bajo. There you will find a variety of dive trips from Labuan Bajo to Komodo National Park. Enjoy also the discounts for specific dive trips.