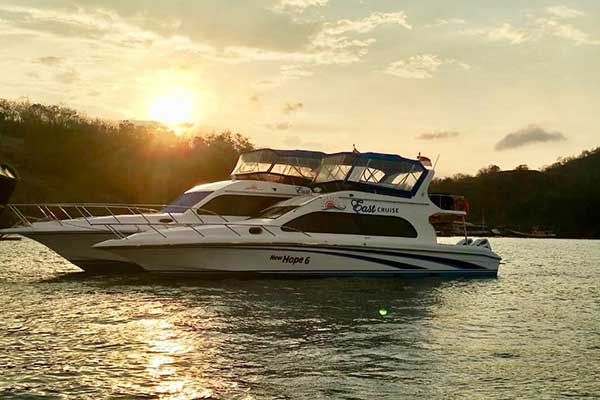 A shared Komodo speedboat tour to Komodo offers a daily departure from Labuan Bajo. This Komodo tour is a type of group tour, you will go with other participants on a boat with a capacity of 20 people. The team will pick you up at your hotel in the Labuan Bajo area at 05.30 am. The tour will start early in the morning from the dock of Labuan Bajo at 06.30 am. The shared high-speed boat tour is only available once a day in the morning.
If you plan to join this tour package, we recommend you make an advance booking 2 days before the departure date. However, you may make a last-minute booking by contacting our team for any information on availability. We might have some options to offer for your great Komodo island tour.
With the Komodo speedboat tour, you are able to visit 6 destinations in Komodo National Park. You will enjoy trekking, swimming, snorkeling, lounge on beautiful beaches, and Komodo Dragon adventure. Our team will ensure that you are satisfied with joining this Komodo tour package.
Explore Komodo on a Shared Komodo Speedboat Tour from Labuan Bajo
The Komodo speedboat tour is only available from Labuan Bajo. There is no Komodo speedboat tour that starts from Bali or Lombok. You will have to stay in Labuan Bajo before you join the trip. Labuan Bajo is the best place to start your Komodo tours compared to Bali and Lombok.
On Komodo Island, you will have a chance to see the largest lizard in the world, Komodo Dragons. Our ranger or tour guide will give a short briefing about the best way to explore the island. You will spend approximately 1 hour on this island.
Komodo island itself is a UNESCO World Heritage Site. It is home to over 2000 species of Komodo Dragons. Not only Komodo Dragons but there are also found other wildlife. You can find deer and birds on the island, enjoy your trekking and take care as the Komodo Dragons are wildlife. Follow all the instructions from your ranger.
Below are the places to visit:
Kanawa Island is an island that is close to Labuan Bajo. The island offers a beautiful view, white sand beaches, and crystal clear water, it is perfect for snorkeling.
Padar Island is one of the three largest Islands in Komodo National Park. The island offers stunning views with its beautiful island formation. It is perfect for sunset and sunrise.
Komodo Island is the island where you can find over 2000 Komodo Dragons. There is also Komodo village which is known as the island village on the island.
Pink beach is one of the most popular beaches with a pink color sand from coral fragmentation. Enjoy snorkeling, swimming, or hiking on two sides of the beach for pictures.
Taka Makasar is a sand bar island that is located near Manta Point with white sand. Enjoy a walk, snorkeling, and swimming.
Manta Point is a place where you will find schools for the Manta Rays. You can enjoy snorkeling with Manata Rays and beautiful corals and other underwater life.
Shared Komodo Tour Price
The price is a quota per person, it is $150 per person. The price includes:
Hotel transfers
Comfortable Shared high-speedboat
Lunch box
Mineral water
Tour guide
Snorkeling gear
Not included in the price:
Entrance fees
Personal expenses
Insurance
etc
If you want to see other tour packages, you can visit our partner Komodo Boat Charter. There you can find a variety of boat tours to Komodo island to book. Enjoy your holiday in Komodo National Park.